Air guns, Shooting Accessories, Army Surplus and Outdoor Equipment.

This website is updated regularly
Proud to be trade members of the British Association for Shooting & Conservation
Members of the
GUN TRADE ASSOCIATION

We are the main supplier
for Relum parts
© Copyright Protek Supplies
PROTEK SUPPLIES
94-102 Chichester Road
Bognor Regis
West Sussex PO21 5AA
Tel: 01243 824284 or 827500

CLICK HERE TO VIEW INSIDE OUR SHOP

WALTHER parts now in stock
With so much stuff to choose from, a PROTEK gift voucher makes a great gift.
Available to any value you want to give
PLEASE NOTE:
Where parts show "OUT OF STOCK" or have a SOLD sticker on, try us again in the near future as parts come back in to stock regularly.

Known as the Ratcatcher Plus this updated version of the standard Ratcatcher does about 8 foot pounds(see note below). Supplied with a Centerpoint 4 times magnification scope with 32 mm lens. Powered from CO2 cylinders that are widely available.The package is perfect for pest control.
£229.00
Note: We measured 514fps using RWS Super H point which works out to 8.33 foot pounds power. If you use a lighter pellet it will give a higher velocity and in warmer weather the gas pressure will be slightly higher as with all CO2 powered guns.
WE HAVE SOME PRETTY AMAZING CAMOUFLAGE CLOTHING, HEADWEAR AND FOOT WEAR IN STOCK
BLEND IN OR STICK OUT…
ALLEN
Deluxe basket weave rifle sling with padded suede non-slip lining and leather trim to provide strength. A quality item that will enhance your gun.
SIG SAUER MCX & MPX
30 shot semi auto (double action) air rifles. Powered by 88g or 90g CO2 cylinders, roto belt mag fed, weaver optics rail and accessory rails, flip up adjustable front and rear sights, up to 750fps. Solid construction.
MPX £269
MCX from £299
Both currently in stock but check by phone just in case!! These sell fast.
COLLECTABLE ZIPPO LIGHTERS. CLICK HERE

SERIOUS TACTICAL AIR RIFLE...
HATSAN AT44 PRECHARGED 10 SHOT

How much grunge is in YOUR barrel? You might be surprised. These felt pellets will clean and increase accuracy. Order a tin now £2.00
Order code: CLEANSERS177
Or CLEANSERS22
.177 tin of 300
.22 tin of 220
80lb draw weight, central cocking, alloy chassis, adjustable sights, high tech fibreglass prod.
Normally £39.95 NOW £35.00 while stocks last
ARCHERY STUFF IN STOCK
Compound bows, long bows, junior starter sets, arrows, bolts, targets etc
SEEK thermal imager. See the unseen!
900 foot distance, 20 degree field of view, -40F to 626F (-40C to 330C) detection range, works day and night. Great for hunting, wildlife observation, quarry retrieval, security/military applications and more. Shows heat prints left by warm objects. Also has built in 2 level high brightness (300 lumen) LED torch.
Captures images to micro SD card (supplied).
Sample images below. Recharges via USB lead (supplied). Its only 125mm long (size of a small phone)
Designed and built in California USA
£419.99
Choice of colour rendering for different applications
NOW IN STOCK
4 x 20 telescopic sight with mounts for standard air rifle, clear image optics, standard cross hairs, ideal for the beginner to shooting or just straightforward pest control.
If you think pre charged pneumatic air gun shooting is too expensive then have a look at this...
From Sportsmarketing is the PR900 pre charged pneumatic bolt action air rifle. We have had nothing but good reports on this gun. You can fire single shot with the supplied pellet tray or 7 shots with the supplied magazine. Comes with filling adapter and has a pressure gauge neatly in the stock to tell you how many shots you have left. Full hunting power .22 calibre. Ideal beginner's, junior or ladies gun.
SPECIAL DEAL
WHILE STOCKS LAST.
We can do the .22 calibre rifle with a 4 x 32 scope, deluxe scope mounts, clip on bi-pod, and a gun bag for a mouth watering £199.99
Lots of our items are available to buy on-line. You can pay with credit/debit card using your PayPal account, through our secure PayPal checkout.

Members of the
GUN TRADE ASSOCIATION
Most credit and debit cards accepted and, of course, cash!
10 SHOT BREAK BARREL RIFLE...THE GAMO MAXXIMA ELITE
• 10 shot magazine fed, supplied with 2 mags
• .22 calibre
• Hunting power 11 foot pounds as tested by us
• With 3-9 x 40 scope and quality mounts
• Manual safety catch
• Muzzle break
• Adjustable cheek piece
£289
In stock now
Unique magazine loading system
Supplied with 2 magazines
This case will store almost any pistol (up to 6" barrel length) securely along with ammo and accessories. You can add a couple of padlocks for complete security. Foam lined which is removable. Made by MTM in USA from good quality plastic. Size internal 320mm / 200mm. Thickness is 60mm without the foam layers. Also great for just accessories or tools or sandwiches!
We have this on a special at just £16.50 including postage or £12.50 from our shop.
GREAT VALUE TARGET PISTOLS
.22 and .177 calibres in stock now
£124.95
• 9 shot mag in .177 and 7 shot mag in .22 •
• Fantastic value recoilless hand gun •
• Bolt action, C02 powered •
• Highly accurate •
• Hard wood beech grip •
• Open sights fitted •
• Dovetail for scope or red dot sight •
• Up to 500 ft/second •
• With full English box/instructions •
• Every pistol tested with "Air Arms field" pellets •
• 12 month warranty •
We now have .25 BIG calibre in stock at same low price
We can deliver the CP-1 to a Registered Fire arms Dealer for you to collect for £10
9 shot mag in .177 and 7 shot mag in .22
• CO2 air pistol based on original blueprints
• Original 1915 markings
• Single/double action
• Field strippable
• 6 shot, 6 inch barrel
• Ammo loads in to removable bullet shells.
Available in 6mm BB or 4.5mm metal bb versions.
4.5mm £179.00
NOW with 1500 Bbs FREE whilst available.
NOW
Also available in exhibition finish silver in stock.
177 pellet firing, rifled barrel.
£229.00
TUESDAY TO SATURDAY
10:30 to 5:30
SPECIAL OFFER
.22 single shot version for just £99.99
for limited time.
We are a shop in West Sussex on the South coast.
We have a massive selection of new and collectable air rifles and pistols as well as new and ex military clothing and footwear, and a huge selection of out door survival gear.
Our shop is easy to get to with plenty of parking. We accept cash and cards. Many of the products are available for mail order.
You are sure to be amazed by the huge range of stuff in the shop. Boys and their toys!
ARE YOU CHANGING LEATHER SEALS?
USE THIS OIL TO SOFTEN AND TREAT.
AVAILABLE IN SMALL CONVENIENT DROPPER BOTTLE OF 10ml. ADD IT TO YOUR PARTS ORDER.
Order code NFOIL
£1.50
SCHMEISSER MP40 BLOWBACK ACTION
• Heavy weight metal frame
• Folding stock
• 50 round magazine
• Up to 7.5J power
• Semi auto action
• 83cm long
• Fires steel BB shot
• CO2 powered from standard powerletts
STANDARD FINISH £320 out of stock
BATTLE FIELD FINISH £349.00 in stock
HEAVY WEIGHT SOLID GUN, AMAZING FUN
Now in stock
50 ROUND MAGAZINE FOR THE MP40. HAVE TWO READY TO GO AND JUST SWAP OUT FOR CONTINUOUS FUN...
£56.95 MAG OUT OF STOCK, MORE SOON.
BESCHREIBUNG UND HANDHABUNG by VON HEINZ DENCKLER. This booklet is the operating and handling instructions for the German machine pistol 40. Reprinted, all text in German, plus diagrams. £5.95
WEBLEY PISTOL GRIPS IN AMERICAN BLACK WALNUT, AFRICAN ROSEWOOD & INDONESIAN EBONY

SOME FANTASTIC DEALS ON SOME FANTASTIC SCOPES...
From BSA and Milbro, ideal for beginner or seasoned pro, cheapest prices, greatest value.

TURN YOUR XS78 or 79 RIFLE IN TO A MULTISHOT
Attach in seconds to the rifle, holds 8 pellets. Just turn for next pellet. In 177 or 22 and its only £24.95 and in stock.
Spare magazine for the multishot adapter in .177 or .22
M334 - Multishot system with 1 mag .177 £24.95
M335 - Multishot system with 1 mag .22 £24.95
M336 - Multishot spare magazine .177 £12.99
M337 - Multishot spare magazine .22 £12.99
GREAT NEWS FOR WEBLEY PISTOL COLLECTORS
We now have the reproduction boxes back in stock.
Shown here is a selection, click here for many more..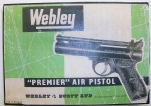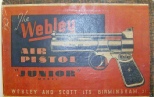 The second
KEMPTON PARK AIRGUN & MILITARIA FAIR
SUNDAY 15th OCTOBER 2017