Antique/classic air pistols 2

© Copyright Protek Supplies
Air rifles & pistols
You are on the red highlighted page
MAIL ORDER INFORMATION
Items that are shown with a blue envelope can be either purchased from our shop or you can have them delivered directly to your home address.
Items where no envelope is shown can be purchased from our shop or you can have them sent to a registered fire arms dealer near you, and you collect it from them. To order an item from us phone 01243 827500 Phone up & order it
01243 827500
Quick & easy

DOZENS OF WEBLEY PISTOLS IN STOCK, GIVE US A CALL OR BEST POP IN AND SEE THEM

HARRINGTON GATS for interested persons.
Two different "last" model GATs with safety catches. Note the differences. One has "F" and "S" stamped in to it the other one (top of picture) has "FIRE" and an "S" raised above the level of the casting and the word "GAT" put in to the pistol and also the screw holding the 2 halves together is through the grip on different sides on each version. We are not sure which one is earlier we suspect the lower one is older than the top one. Both were sold in this country by Harrington and this was before they were produced in America. Both say "Made in England" and both have "J101" with F in pentagon on the other side which is identical apart from the grip screw hole. Also we notice that the cork holder on the tip of the barrel has a coarser knurling on the top one.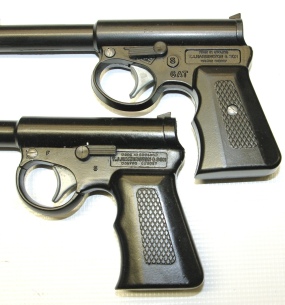 In very good condition, in one of our reproduction boxes.
Beautifully made replicas of Webley boxes from yesteryear,
ideal for collectors.
REPLICA WEBLEY PISTOL BOXES

Stock number
3754 Webley Premier F series, c1973, very good condition, shoots well .22 £140.00 SOLD
Stock number
3755 Webley Senior c1950's, very good condition, good working order .22 £170.00 SOLD
Stock number
3736 Diana mark 4, good condition, 1963, .177 £62.00 SOLD
Stock number
3734 EM-GE ZENIT, c1930's, fair original complete condition, .177 rifled £135.00
SOLD
Stock number 3732 WEBLEY SENIOR .22 boxed superb condition, early 60's made. This most classic well engineered pistol is in its original box, the metal work is in very near new condition. Unfortunately the plastic grips have been broken on the corners and a glued repair made. At the same time the grips seem to have been fully stuck on with glue. During its service we could not remove them. A real shame otherwise this is a near mint pistol. The box is a little battered and worn on the edges but is complete. A very nice collector's item and also shoots superbly. Obviously had very little use. £230.00


This classic German made break barrel air pistol is in very good condition retaining most of the original bluing. Original open sights are fitted, some minor surface scratching to the plastic of the grip which is almost inevitable with these. The gun shoots at around 2.2 foot pounds but is nice and easy to cock and is consistent. It is a shame it is .22 as a .177 in our opinion would have been better, but this is a nice quality pistol.

Stock No COMMISSION SALE PTB
This nice example is in very good condition retaining nearly all its original deep glossy bluing and it is in its original box which is in fair condition with a component parts list and an old target. A very nice collector's item that shoots absolutely fine with a good spring fitted. Not had very much use.

This late model Harrington GAT pistol is in as new condition in its original display packaging. This pistol also has "Umarex" marked on the side. The box outer is a little torn, the polystyrene tray is complete, also has 3 of its original 5 corks and of the original .177 darts. This is the version with the safety catch.

This is middling sort of condition, complete working with a complete and functional rearsight, early model as it has the foil safety catch, the markings on the fore ende have been polllllished off. Quite a nicely made pistol really but this one is in only average condition. A shhooter not a collector,s item.